Zoo Picnic Tickets March 2020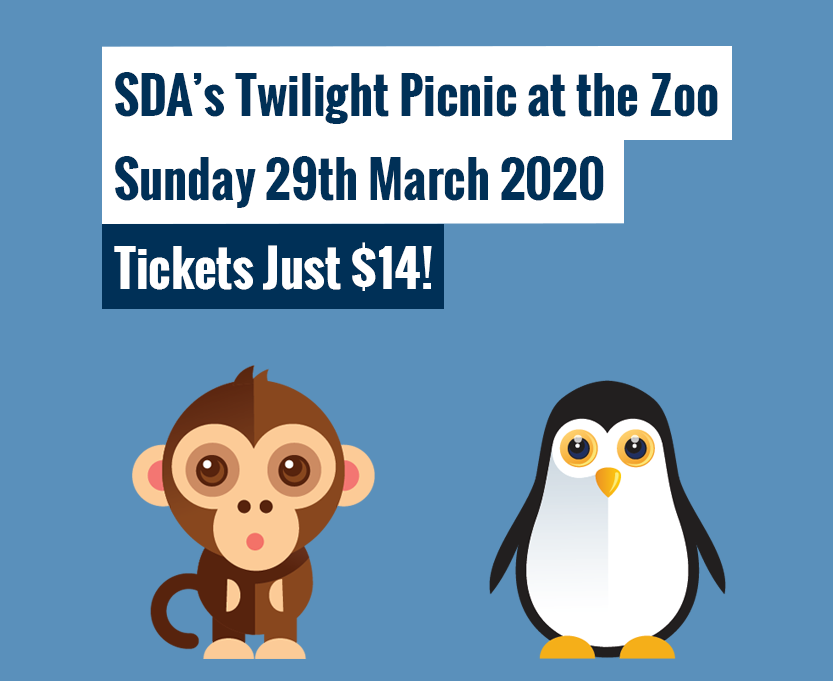 Ticket Information
The SDA's annual picnic at the Melbourne Zoo was unfortunately cancelled in January due to severe thunderstorms, but we have secured a new date for our members to come and enjoy an evening with friends and family at the Zoo.
Stock up your picnic basket, and fill up your Esky! We have a free hamper minding service available, so you won't have to carry your dinner all around the Zoo with you. So come along and enjoy the tranquil surroundings of the Melbourne Zoo for what will be a fun and amusing evening out for the family. Both adults and children will be entertained by a live band, guaranteeing that everyone will have an enjoyable night.
Tickets are just $14.00 for adults and children, and you get a free drink and ice-cream (please note: there is a limit of 20 tickets per member). Normally, tickets for Melbourne Zoo Twilights cost between $40-$60 per adult and $20-$60 for a child. So we've arranged sensational savings for members attending this special evening!
Not all animals will be available for viewing, but some can be viewed until 7.00 pm (at the discretion of Zoo management). Please check the handout you receive on the night for details.
Please note: Entry to the zoo closes at 7.00 pm sharp. Tickets cannot be purchased at the gate. TICKETS ARE NOT REFUNDABLE.
Upon receipt of your application, payment will be processed within five business days. Tickets will be mailed to you closer to the date of the event.
Only SDA financial members and their families holding the special SDA Picnic tickets will be admitted.