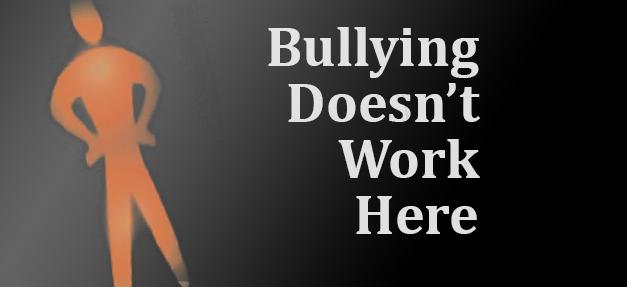 Bullying In the Workplace
There are many forms of bullying at work. You don't have to accept this behaviour. Everyone has the right to respect and dignity - and to feel safe at work.
What Is Bullying?
Many people think of bullying as only happening in the schoolyard. But that's only part of the story.
Most bullying behavior is not so obvious.
Belittling, intimidating, threatening or keeping people under pressure is also bullying. This is the most common form of bullying in Australian workplaces, and is a risk to health and safety.
Bullying can happen to anyone.
The Workplace Is No Place For Bullying 
Is this your workplace?
Shouting or abusive language
Open or implied threat of the sack or demotion
People affraid to speak up about conditions, behaviours, or health and safety
Unreasonable demands or impossible targets
Being required to perform tasks without adequate training
Being forced to stay back to finish work or additional tasks
Compulsory overtime, unfair rostering or allocation of work
Interference with personal belongings or sabotage of work
Pressure on staff who put in a workers' compensation claim
Who's Doing the Bullying?
Co-workers, clients, customers, contractors or others from outside the workplace can be bullies. However research shows more workers are bullied by employers and managers than by fellow workers.
What Can Be Done?
Everyone has the right to dignity and respect, and to a safe and healthy environment at work.
If bullying is happening in your workplace, there are ways to deal with it: