The Australian weekend is iconic. It's when we take time out to relax, when families go to the beach, when we take to sporting fields across the country to either play or cheer on our favourite sports stars.
For many SDA members, however, the weekend also often means work.
Spending time away from activities that the majority of Australians get to enjoy on the weekend is only made bearable because of penalty rates.
The compensation for missing out on valuable time with family and friends will never make up for that lost time, but it does help ease the pain and make it financially worthwhile.
Unfortunately, there are some in our community – some of our politicians and lobby groups – who want to rob workers of penalty rates. Right now, our penalty rates are at real risk.
The attack on our penalty rates has been multi-pronged of late, and we're right in the thick of it.
The Fair Work Commission is currently conducting a review of penalty rates in the retail and hospitality industries.
The Commission has called for unions, employer groups and other interested parties to submit their views on whether penalty rates should be cut.
The SDA has put in a detailed submission outlining exactly why it is critical that our penalty rates are protected.
The Fair Work Commission also recently called on workers to put in their personal submissions – and hundreds of SDA members have taken up the opportunity to share their important story with the Commission via the protectpenaltyrates.org.au website.
The penalty rates of hospitality and retail workers are under immediate threat, which is why we all need to take action today.
We also know that if the penalty rates of workers in those industries are slashed, it is only a matter of time before the penalty rates of workers in other industries are under attack too.
SDA members, and all workers, deserve to be compensated for missing out on valuable time with family and friends on weekends.
If you're working unsociable hours, you deserve to be paid appropriately. 
---
Jordana's Story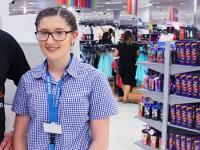 Jordana is 18 years old, and works part-time in the retail industry.
She moved out of home shortly after finishing high school to study veterinary nursing. She earns penalty rates for the weekend work she does which she uses to pay for essentials, like her course fees.
If penalty rates were cut, it would have a big impact on her ability to make ends meet.
"Earning less money I would struggle to pay rent, phone, and bills in general. I would struggle to pay my course fees," she says.
---
How Can You Help Protect Penalty Rates?
Like the Protect Penalty Rates Facebook Page
Ask your family and friends to sign up too – the more supporters we have, the louder our voice will be.
Stay tuned to the campaign and take part in the latest actions. Together, we can protect our penalty rates.